F-Secure Messaging Security Gateway, Email Encryption

Industry-leading protection for e-mail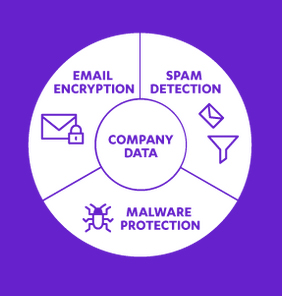 F-Secure Products
F-Secure Messaging Security Gateway, Email Encryption, 1-Year
F-Secure Messaging Security Gateway, Email Encryption License with 1-Year Support, 50-99 licenses
*Price per license. Minimum size of order is 50 licenses.
#FCMESN1NVXBIN
List Price: $25.55
Our Price: $23.00
F-Secure Messaging Security Gateway, Email Encryption License with 1-Year Support, 100-499 licenses
*Price per license. Minimum size of order is 100 licenses.
#FCMESN1NVXCIN
List Price: $20.70
Our Price: $18.63
F-Secure Messaging Security Gateway, Email Encryption License with 1-Year Support, 500-999 licenses
*Price per license. Minimum size of order is 500 licenses.
#FCMESN1NVXDIN
List Price: $15.59
Our Price: $14.03
More pricing below, click here!
Overview:
Messaging Security Gateway brings end-to-end confidentiality wherever you need it. Filter incoming and outgoing mails, encrypt your emails, block data leaks, communicate in private and keep your business truly confidential.
How to manage?
Messaging Security Gateway, with its policy-based management operations, lets IT administrators focus on what matters. Manage Messaging Security Gateway with our easy web-based administration portal.
Highlights
Powerful end-user controls. Manage the entire email environment easily.
Confidential. Integrated and easy to use e-mail encryption without 3rd party applications.
Your way. Customize end-user services easily.
Extensive. Protect your business against spam, viruses and other security threats.
Save time. No hassle and fewer support calls for your IT.
No disasters. Protect your confidential data against disclosure.
Benefits
F-Secure Confidential7 MSG offers complete defense against email threats with 99%+ anti-spam accuracy and 100% anti-virus protection.
Reduces the load on mail servers and the company network, minimizing the need for hardware investments.
Email encryption prevents accidental leaks of confidential data.
MSG offers total control and flexibility for email security.
Features:
What is Messaging Security Gateway?
All-in-one solution for anti-spam, anti- malware and encryption needs.
Helps detect and stop attacks even before they enter your network.
Easy-to-use tool – just install it and forget all about it.
Offers automatic control of confidential information.
Easy to implement and rebrand for your company needs.
Comes with enterprise- class availability and scalability
Simple to administer with no loss of control.
Complete protection with a single solution
Email encryption
Policy-based encryption
Trusted partners
TLS encryption
Data Loss Prevention
Virus protection
Signature-based
Zero-hour threat detection
Parallel message analysis
Dynamic updates
Categorization
URL protection
Self-learning
Global reputation check
Key Features
MSG Offers two main features for email communication: protection and privacy.
Virus protection and spam detection help protect your company's computers and data against external threats.
Email encryption allows you to make sure that private information stays private.
Email encryption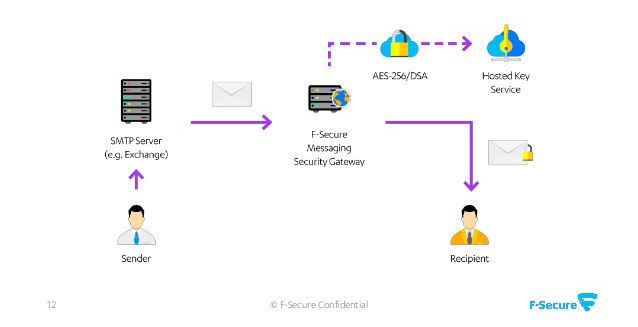 Virus protection
Zero-hour threat detection
Multi-layered threat protection
Bidirectional filtering
Best-in-class inbound and outbound email security
Spam protection
Ultimate protection against the latest email threats.
Real-time reputation check for spam and URLs guarantees highly accurate spam detection.
Advanced machine learning technology for unrivalled anti-spam effectiveness
Eliminate human errors
Digital Assets Module (MLX) analyzes and classifies your confidential documents and then monitors for that information (or parts of that information) in message stream.
Automatic reporting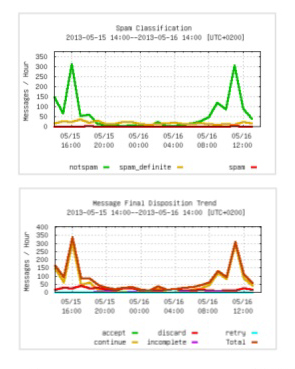 With the automatic reporting tool, you get an overview of the attempted and blocked attacks and can verify what emails are being filtered.
You can also get an overview of the overall status of email traffic in the company.
You can select what type of information you need to get.
More than 60 ready-made reporting templates and scheduled reports
Multile ways to publish reports
Customized reporting for each customer
Branded reports according to your company's visual guidelines
Detect attacks before they enter your network
F-Secure Messaging Security Gateway offers complete protection for inbound and outbound email communication by blocking unwanted and harmful messages and eliminating the possibility of data leakage
Choose the suitable security package
To get started - choose your own way to get security - in the cloud of on premises
Choose the model
Self-managed (Messaging Security Gateway): Hardware or Virtual appliance
Hosted by F-Secure (Protection Service for Email)
Choose your own package
Inbound protection
Protection bundle (Inbound protection + email encryption + DLP)
Deployment and installation
Designed as a gateway product to protect the email environment inside your network.
Supports hardware, virtual or hybrid deployment.
Easy and quick implement in your current network environment.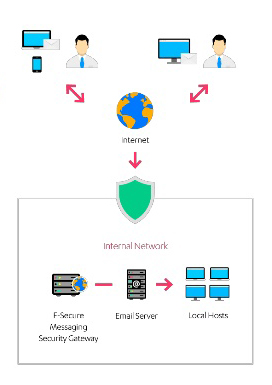 Install and forget
Automatic, self-learning and email filtering
Automatic updates (patches, malware/spam definitions)
Automatic end-user quarantine management
Automatic synchronization with Active Directory
Automatic reporting
Best protection in the world - leader in Gartner's Magic Quadrant
Advanced machine learning technology for unrivalled anti-spam effectiveness
Ultimate protection against latest email threats. Real-time reputation check for the Spam and URL's
Email Firewall blocks senders with bad reputation
Award-winning Anti-virus engine with multilayer protection
Zero-Hour Threat Detection
Unbeatable E-mail Encryption and Data Loss Prevention
Specifications:
Message Security Gate - Inbound Protection Specifications:
Supported platforms for virtual environments

VMware ESX 4.0
ESXi 4.0, ESX 4.1
ESXi 4.1

Supported languages

Management Interface
English (US), Japanese

Digest Template for end users
Chinese (Traditional and Simplified), Dutch, English (US), Finnish, French, German, Italian, Japanese, Polish, Portuguese, Russian, Spanish, Swedish

Supported browsers for management

Windows XP, Windows Vista, Windows 7: IE 6*, IE 7, IE 8*, Firefox 3.6, Safari 5, Chrome
Mac OS 10.5 and 10.6:
Safari 5
Red Had Enterprise Linux ES:
Firefox 3.6, Chrome

Supported digest e-mail clients

Microsoft Outlook 2003, 2007 and 2010
Microsoft Outlook Express 6
Microsoft Outlook Web Access 5.5, 2000 and 2003
Mozilla Thunderbird 3
Netscape 7.1 Email
Lotus Notes 7

Webmail Clients

Microsoft Outlook Web Access 2000, 20003, 2007, 2010
Lotus iNotes
Messenger Express
Gmail, Hotmail, and Yahoo Mail

Mail Servers

Microsoft Exchange Servers:
MS Exchange Server 2003, 2007, 2010
Lotus Domino Servers:
Lotus Notes/Domino 7.0
Compare:
Protect your communication tools
Email is by far the most common communication tool for companies. Therefore it is nowadays the primary infection vector for targeted attacks.
Our portfolio covers powerful email and web filtering solutions that fit the varying needs of small to large companies, including a fully F-Secure hosted email filtering solution.
Messaging Security Gateway
Industry-leading protection for email through a dedicated virtual or hardware appliance, with end to end email encryption.
Protection Service for Email
Industry's most effective email protection as a turn-key service solution for small and medium enterprises delivered by certified F-Secure resellers.
E-mail and Server Security
Powerful protection for networks and confidential data against all types of malware for Windows, Citrix and Microsoft Exchange servers.
Internet Gatekeeper
High-performance protection at the gateway level by scanning incoming and outgoing SMTP, HTTP, FTP and POP3 traffic for all types of malware.
| | | | | | | | |
| --- | --- | --- | --- | --- | --- | --- | --- |
| | Spam | Malware | Content Filtering | HTTP Filtering | Quarantine | Email Encryption | Hosted as a Service |
| Messaging Security Gateway | | | | | | | |
| Protection Service for Email | | | | | | | |
| Email and Server Security | | | | | | | |
| Internet Gatekeeper for Linux | | | | | | | |
Documentation:
All F-Secure software products are available via electronic fulfillment as an alternative to traditional shipping. Click here to learn more.

Pricing notes:
Pricing and product availability subject to change without notice.
For 1,000 or more users, Please Request a Quote